Marketing Assets
Feature Sheets, Brochures, and more
Looking to expand your online reach and grow your onsite presence? Maybe you want to give information to your clients but you want to present a professional design that they can remember? Look no further, at HomeRender we can create the Marketing Assets that you and your team can use to promote your projects.
Already have an account? Log in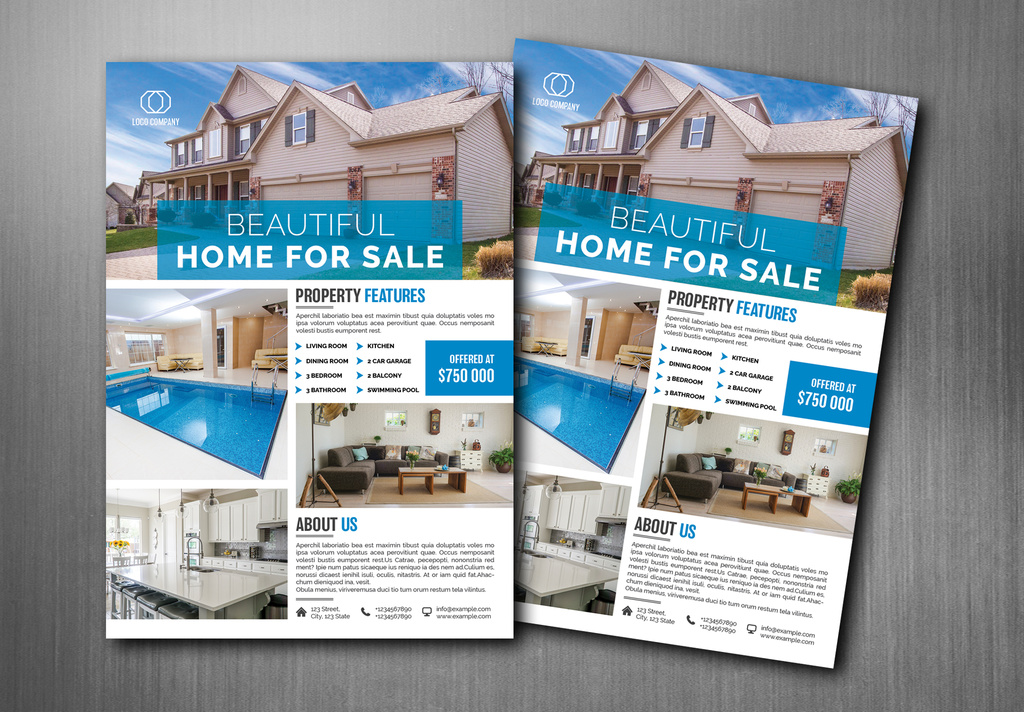 ALL PLANS
BROCHURES Available now!
A marketing brochure can help you emphasize what you can do for your clients and give your brand an edge over your competitors. Having a synchronized marketing source will help you position your business correctly in the mind of your prospects. Showcase your product and realize that your brochures will cause clients to associate you with a level of professionalism that no one else has.
Your brochures can have the following:
Onsite photos
Description of the project
Project location
Contact information
QR Codes or links to related websites
Pricing (or starting at cost)
Highlight features
Those on the professional/business plans can add the 3D Renderings that we created as well!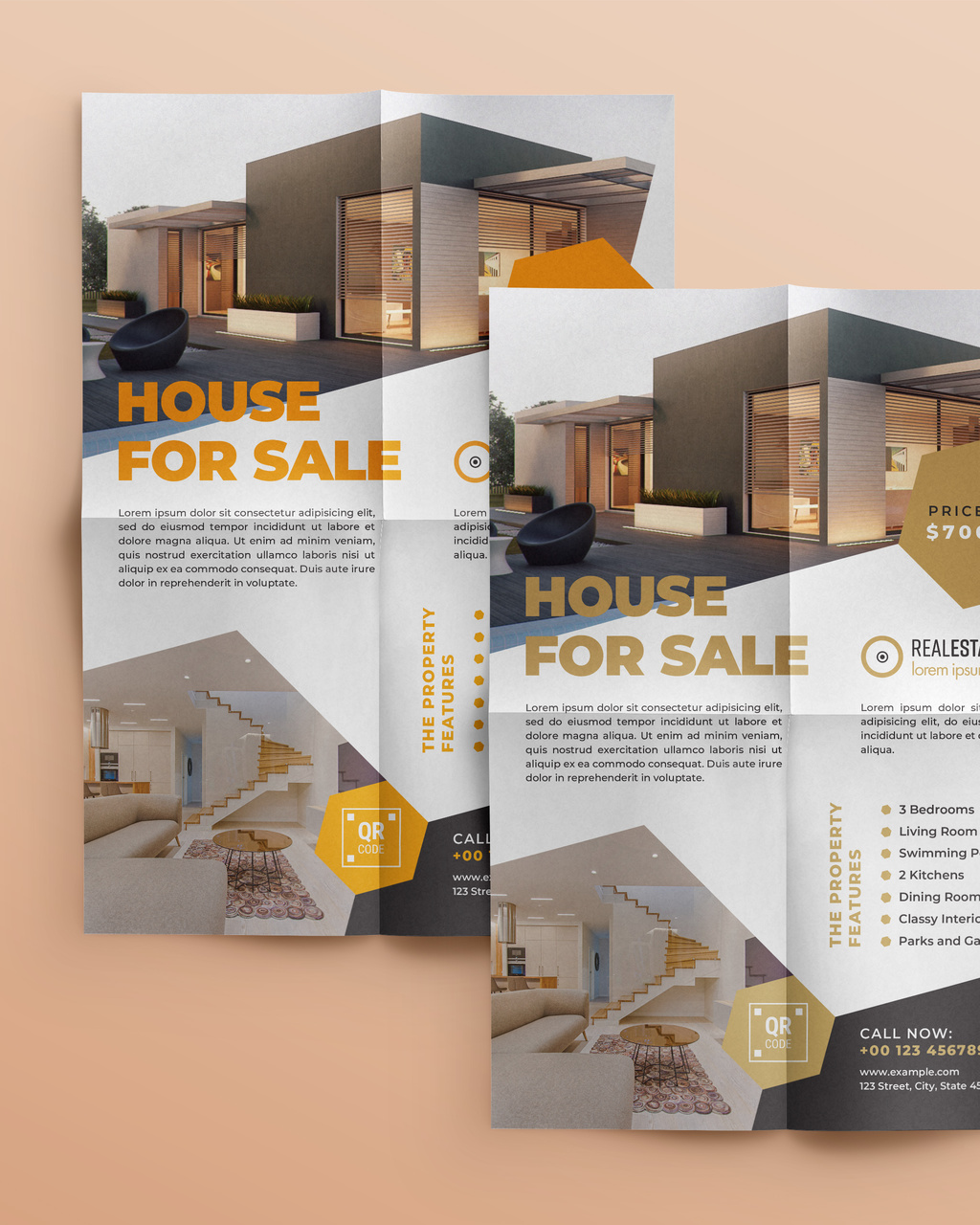 Did you know we offer unlimited revisions?
ALL PLANS
Feature Sheets
With feature sheets, you list out the points about the residence. New homes typically include an extensive list of quality construction items and value-added features. Some things show up as a standard or building code and are more for the client's general information, such as having a solid concrete block construction with exterior stucco finish, high-quality double pane glass windows, high SEER energy-efficient air conditioning, and natural wood kitchen cabinets.
Other times, the construction has additions resulting from customized plans and upgrade features. These items should be presented in the best possible way to sway people on the fence or indicate the characteristics of this particular home and its surroundings. These upscale features list as an upgrade, an option, or a choice. I.e., granite vs. quartz kitchen countertops, upgraded appliances, additional pool bathroom, ceramic tile floors in the kitchen, or wide plank wood floors throughout.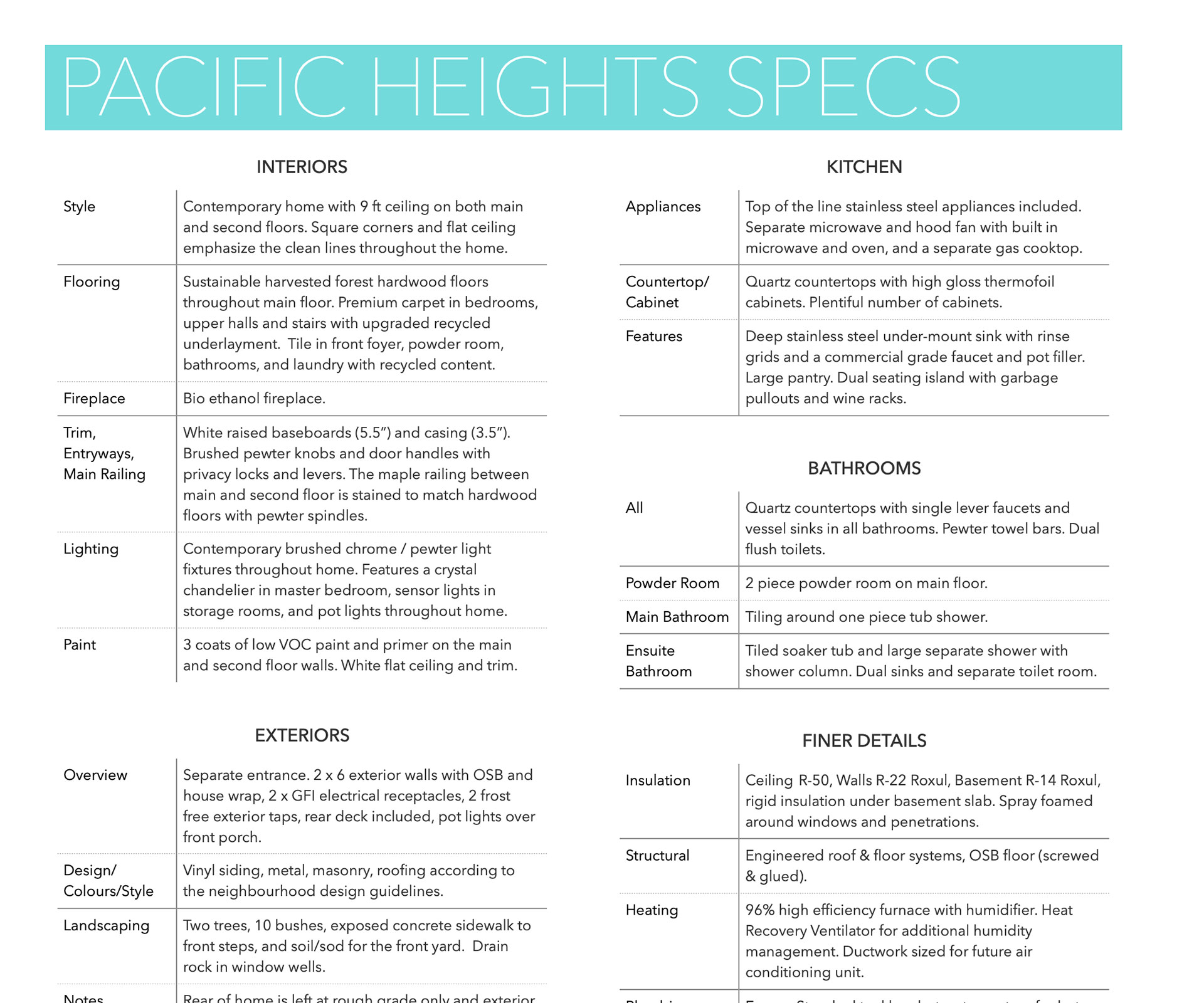 How simple is this?
You need to create an account to have private access. With private access, you can perform a variety of tasks such as uploading your plans, seeing the status of your requests, or downloading your files.
2
Add Project Info and specify Desired Assets
6
Check status and download results
And that's it - you're finished!
Case Study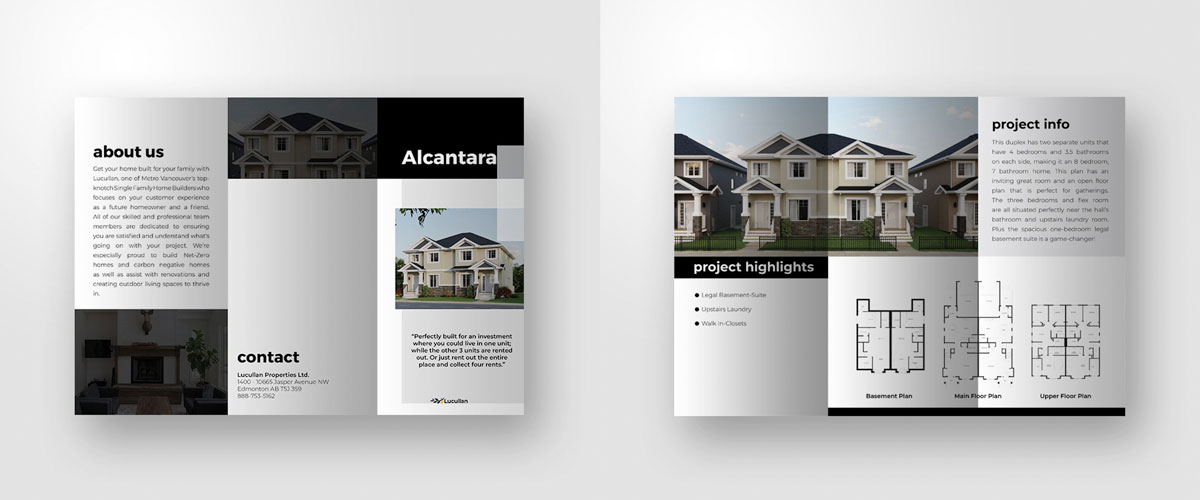 Duplex investment property brochure for showhome
1. Client made a request with our New Project Wizard
Their first choice is to select a template which will determine the general layout and style of the brochure. Other additional options are requested, such as headers, features lists, or project descriptions that fit for that particular template. Lastly, is the theme options which will allow you to select a color scheme for the brochure if the default colors do not suit your taste.
2. Image Prep and upload
A few 3D renders, along with 2D floor plans, were uploaded. Since we worked with the company in the past, we had the contact information and logo handy. Additional details of the project were also provided such as description of the project, project highlights, and about the company.
3. Comments and clarifications
In this example, we had to clarify a few things.
Was it ok to place the floorplan in the middle of the fold? This worked out well in this case because it was a duplex and the party wall was right on the fold.
There were only 3 highlights for the plan, was there any more details or did the builder want to illustrate the numbers of bedrooms and bathrroms? No, they wanted to keep it simple.
The brochure was one image short. So we asked them if they were ok with a generic living room image that matched the plans, and they appreciated that we had that instead of a black box.
Disclaimer
This example uses certain features (3D Renderings) that are available for clients on the Professional or Business plans.
Become a contender, use HomeRender!